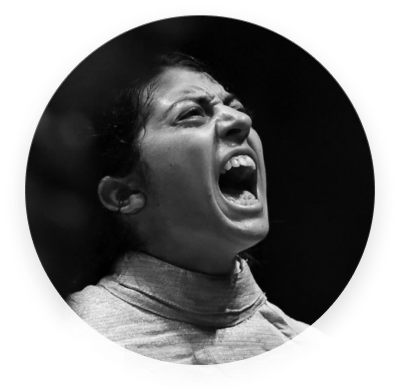 Azza Besbes
founder of Azza Fencing
A legacy spanning the 2008, 2012, and 2016 Summer Olympics.

A remarkable achievement: silver medalist at the 2017 World Championships.

An outstanding record: 11-time African champion.
Frustrated by subpar fencing shoe quality? It's time for a change. Our brand is here to revolutionize the game.

No more settling for less. Step into excellence and elevate your performance on the strip. Together, let's raise the bar for fencing excellence.

Finally I've decided it's time for a fencer to offer the best fencing shoes to its peers.
MAY 20
In-depth research based on the Hong Kong Research Institute of Textile & Apparel,
as well as partnering with CTC to frame the technical requirements and the brand vision

NOV 20
Partnering up with footwear experts around the world to kick-off the design and development process
MAR 21
Sampling of AF Version 1 with a well-known footwear factory based in China.
Creating a first set of samples for the testing phase.

JUL 21
Testing the samples under real conditions during the Tokyo Olympics.
Receiving feedback by professional athletes and the testing institute
DEC 21
Incorporating feedback and test results. Refining the design and technical features
leading to Versions 2&3. Further testing and refinement.
JAN 22
The final samples are now ready for bulk production, offering modern colorways that cater to contemporary tastes.

Innovation lies at the core of our product, with features specifically tailored to meet the needs of modern fencers.

JUN 22
Get ready! The formal pre-sales phase is about to begin.
DEC 22
Exciting news! Production is now complete, and we have started delivering our top-quality fencing shoes to our valued customers.
MAR 23
Gear up for the future! We're already working on our second collection, gearing up for the 2024 Paris Olympic Games. Expect more innovation and excellence in fencing footwear.

In addition, We are proud to announce our partnership with an international R&D lab, collaborating to develop high-tech shoes that will revolutionize the game of fencing and set new standards in footwear technology. Get ready to experience the cutting-edge advancements we are bringing to the sport.